Welcome to St. John the Apostle Catholic Church
Parish Mission Statement
At St. John the Apostle, we strive to be a church that lives by faith, is known by love, and is a voice of hope to our community and the world.
+++++++++++++++++++++++++++++++++++++++++++++++++++++++++++++++++++++++++++++++++++++++++++++++++++++++++++++++++
Weekly Holy Hour - Thursdays 4:00 PM
Exposition of the Blessed Sacrament & Rosary
You can view the following by clicking on the links below:
Daily Message - 7:00 AM Weekend Mass - 9:00 AM Sunday
Rosary - 7:00 PM Weekdays & 8:40 AM on Sunday
Our Facebook Page Link: https://www.facebook.com/StJohntheApostleNorwalkIowa/
Our Youtube Link: https://www.youtube.com/channel/UCvpu23P7WtZuGJSdnvD4jjg
__________________________________________________________________________
Parish Family Night - February 1
6:00 Dinner & Lesson
Everyone is welcome!
_____________________________________________
Welcome - Men's Retreat
February 18-19, 2023
Gentlemen, are you tired and frustrated? A little disoriented spiritually? Distracted by situations you feel you can do nothing about? Ignoring these feelings doesn't make them go away. Maybe you need a new beginning.
Welcome to Welcome, a weekend experience that helps you discover what is missing in your life and what to do about it. Most people want to work this out but have no idea how to do it or even where to start. Welcome puts a framework around the questions and struggles we all have so that every day, in every way, we can become a better version of ourselves.
Please join us for Welcome, February 18-19, here in the parish hall. Men only. Scan the QR code below or visit https://forms.gle/eofXvg9mhceWfjQn8 to learn more or sign up.
Our God is a God of second chances, fresh starts, and new beginnings. In the Bible, we read dozens of epic tales of the incredible ways God transformed people and their lives, from Moses to Paul to Zaccheus. Why not you and me? Why not now?
___________________________________________________________________________
Click on the picture for more information on the Ignite! Campaign
The Ignite! Campaign raises up the dignity and image of God of everyone in our Diocese. As one body of Christ, it gives each of us the opportunity to invest in our priests, women religious, deacons, mothers, fathers, teachers, catechists, and children, who are the foundation upon which the Church and greater community are built.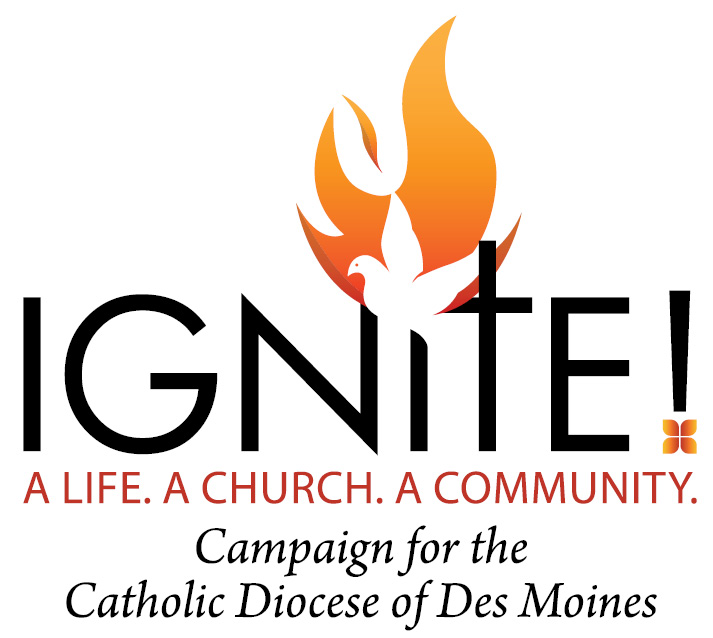 Tithing support to your parish is important!
Please strongly consider setting up an online giving account using the DONATE tab at the top of this page.
Online Giving has numerous benefits:
No need to hassle with checks or cash
24/7 web based access
Easily schedule recurring donations to coincide with your pay period
Credit card option allows you to take advantage of rewards such as air miles or cash bonuses

No need to share bank account information because you enter it directly into the Online Giving secure site
Allows you to give even if you are unable to attend parish services
Contribution amount is easily adjusted as needed
Option to remain anonymou
Please contact Jacque Mahoney in the parish office if you have questions.
Masses
Saturday: 5:00 PM
Sunday: 7:30 & 9:00 AM
Weekdays: Tuesday, Wednesday & Friday at 8:15 AM Thursday at 6:00 PM
Reconciliation: 4:00 PM
Adoration & Rosary: Thursday 5:00 PM
Upcoming Events
Catholic News & Perspective
Links of Interest (click on)